Reds News
Mets fans now know what Reds fans have known; Javier Baez is a crybaby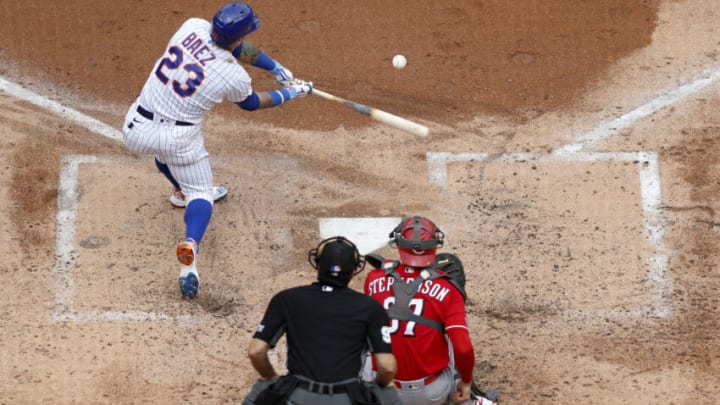 NEW YORK, NEW YORK - AUGUST 01: Javier Baez #23 of the New York Mets in action against the Cincinnati Reds. (Photo by Jim McIsaac/Getty Images)
The boo-birds have been out at Citi Field for sometime, and apparently it's hurting Javier Baez's feelings. The former Chicago Cubs shortstop had a message for New York Mets fans yesterday; stop booing me. This attitude is nothing new for Baez and something that fans of the Cincinnati Reds have seen for years.
Baez and his teammates began flashing thumbs-down signs after having success during Sunday's game versus the Washington Nationals. Baez explained after the game that the gesture was in response to the New York fans who've been booing the struggling Mets.
Baez said, via MLB.com, "When we don't get success, we're going to get booed. So they're going to get booed when we get success." Baez is a crybaby; plain and simple.
Reds fans have seen Javier Baez get his feelings hurt before.
Reds Country has seen this behavior from Javier Baez time and time again. It started in 2019 when Cincinnati reliever Amir Garrett struck out Baez during the seventh inning of a game in the Queen City.
AG, as he's prone to do, let out a giant roar after inducing a swing-and-miss from Baez (which honestly isn't that hard to do) and the Cubs' shortstop didn't take kindly to Garrett's gesture. Baez, with bat in hand mind you, walked toward Garrett which incited a benches-clearing dustup. The message was clear; don't hurt Javier Baez's feelings.
Earlier this season during a game against the Cubs, Amir Garrett (shocking, I know) decided to let Anthony Rizzo know how he felt about punching out the Chicago first baseman. Garrett flapped his gums in the direction of Rizzo and Baez didn't appreciate AG jawing with his teammate. To be fair, the Reds were trailing the Cubs in the game and Garrett's antics were a bit over the top.
What happened next was quite ridiculous. Baez, screaming at Garrett from the Cubs' dugout, proceeded to leap over the railing onto the playing surface and charged AG. We've seen Amir Garrett charge the entire Pittsburgh Pirates dugout, so I doubt he was scared of Baez.
Eventually, the benches and bullpens emptied, Javier Baez had to be restrained by Cincinnati's third baseman Mike Moustakas while revealing half of a peace sign (I'll let you decide which half he omitted) in Garrett's direction. Strangely, Garrett received a multi-game suspension for his role in the fracas and Baez received a measly fine.
Prior to the trade deadline, Javier Baez got the better of Amir Garrett with a walk-off single that led to the NL's strikeout-leader displaying a repugnant act as he waltzed up the first base line. A few days later, Baez was dealt to the New York Mets.
All of these actions reveal the type of character that Javier Baez is. When things are going his way, he's the loudest and proudest of the bunch; high-fiving his teammates, dancing, yelling, and having a good ole time.
But, when times get hard, somebody call the whambulance because Baez is going to be all up in his feelings, sulking and pouting in the corner. Sorry Mets fans, but Reds fans have known for years what I'm sure you've come to discover; Javier Baez is a crybaby. Don't worry, he's a free agent and will be headed elsewhere this winter.