Cincinnati Reds: All-time greatest moments at Great American Ball Park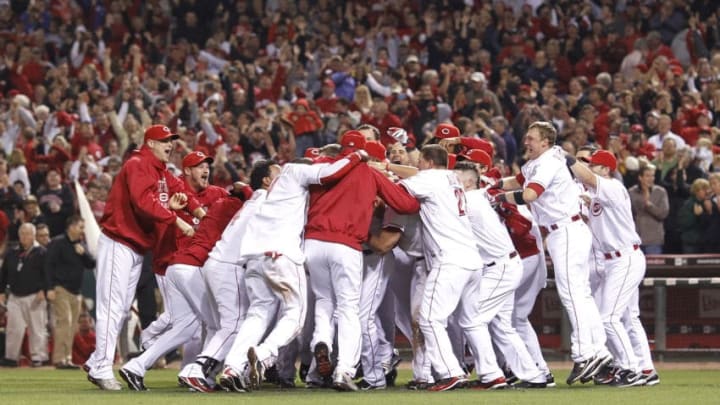 CINCINNATI, OH - SEPTEMBER 28: The Cincinnati Reds celebrate after Jay Bruce's walk off home run in the ninth inning against the Houston Astros at Great American Ball Park on September 28, 2010 in Cincinnati, Ohio. The Reds won 3-2 to clinch the NL Central Division title. (Photo by Joe Robbins/Getty Images) /
CINCINNATI, OH – JULY 2: Homer Bailey #34 of the Cincinnati Reds celebrates after throwing a no-hitter against the San Francisco Giants at Great American Ball Park on July 2, 2013 in Cincinnati, Ohio. The Reds won 3-0. (Photo by Joe Robbins/Getty Images) /
The Cincinnati Reds have called Great American Ball Park home since 2003. Let's look back at some of the most iconic moments in the history of GABP.
There hasn't been a lot to cheer about over the past couple of years for the Cincinnati Reds, but that hasn't always been the case. It's no secret that the Queen City is a city of baseball, and the Reds have given our city some awesome moments since Great American Ball Park opened in 2003.
Crosley Field will hold a special place in the hearts of Reds fans. The birthplace of night games and home to Reds until 1970, Crosley Field is one of the most iconic stadiums in baseball history. Riverfront Stadium saw it share of great moments. The Reds won three World Championships while calling Riverfront home and fans also saw Pete Rose hit his record-breaking 4,192nd hit.
While GABP has yet to see a World Series banner, it has seen its fair share of primetime moments. I wanted to explore some of my fondest memories as a Reds fan, and what I believe to be some of the best moments within the Reds' home by the Ohio River.
5. Homer Bailey's no-hitter against the Giants
It may seem that no-hitters are becoming a more frequent occurrence in Major League Baseball. However, before September 28, 2012, a Cincinnati Reds player hadn't pitched one since Tom Browning's masterpiece in 1988.
When the Reds were one of the best teams in baseball in 2012, Bailey threw a no-hitter against the Pittsburgh Pirates. The only problem with Bailey's performance in that game was where it was played. Bailey's no-no was on the road at PNC Park, so many Reds fans didn't get the opportunity to see it in person.
Well, Reds fans would not have to wait long to see one of their own throw another no-no. Little did anyone guess it'd be the same pitcher. A year later, Bailey toed the rubber against the San Francisco Giants just before the Fourth of July. Homer Bailey actually held a perfect game through seven innings until he had a leadoff walk to Gregor Blanco.
In the top of the ninth inning, Bailey leapt into the air to snag a would-be single and tossed the ball to Joey Votto at first base to retire the first batter of the inning. A 2-2 fastball the next batter in the Giants order induced a swing and a miss. Bailey had just one more batter to lock up his second no-hitter.
With the Reds winning 3-0 and Bailey just one out away from another no-hitter the crowd at Great American Ball Park rose to their feet. Having thrown 108 pitches already, Bailey set and turned one loose. A routine grounder to third saw Todd Frazier scoop the ball and throw it Votto, securing Bailey's no-hit bid.
Bailey recorded nine strikeouts and walked only one batter to complete his second career no-hitter with a 3-0 victory over the San Francisco Giants, who just a year earlier tore Cincinnati's heart out in the playoffs and ultimately won the World Series.
I believe this second no-hitter ended up hurting Cincinnati in the long run, we felt rushed to sign Homer Bailey to a massive contract extension, Johnny Cueto walked, Bailey kept getting hurt and the rest is history. Oh well, at least we have that awesome no-hitter(s) to fall back on for when times get tough.