Reds News
5 low-cost free agent replacements for Nick Castellanos in the Reds outfield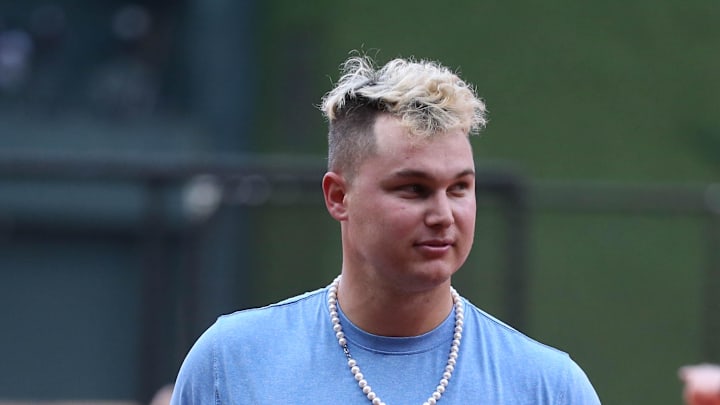 Atlanta Braves right fielder Joc Pederson warms up before playing the World Series. / Troy Taormina-USA TODAY Sports
The Cincinnati Reds now have a giant void in right field. Nick Castellanos opted out of his contract and is now a free agent.
With Castellanos now on the open market, let the bidding begin. It's highly likely that Castellanos' price tag will be higher than what the Reds are willing to spend.
If Castellanos chooses to sign elsewhere this offseason, there are a bevy of low-cost outfielders on the free agent market this winter who could fill in for the All-Star in right field.
1. The Reds could sign Joc Pederson.
If Joc Pederson could replicate his postseason performance during the regular season, Mr. Joc-tober would be a hot commodity on the free agent market.
During his playoff run with the Braves, Pederson smashed three home runs with a .409 slugging percentage. With the Los Angeles Dodgers in 2020, Pederson hit .382/.432/.559.
The problem is, Pederson's heroics only seem to show up during the playoffs or in short bursts throughout the season.
On the year, between his time in Atlanta and earlier in the season with the Chicago Cubs, Joc Pederson hit just .238/.310/.422. Pederson posted a wRC+ of 94 in 2021 after a wRC+ of 86 the year before.
Joc Pederson, a left-handed hitter, would afford David Bell the opportunity to keep Tyler Naquin in center field, and possibly platoon the former Cleveland Indians outfielder with the injury-prone Nick Senzel.
Pederson's splits versus left-handed and right-handed pitching yielded an OPS that was only seven points apart. However, 16 of Pederson's 18 homers came off right-handers, and his on-base percentage was 50 points higher versus southpaws.
Pederson, a former All-Star, was worth 0.6 WAR last season, meaning he's the equivalent of a replacement player. If the Reds do intend to pursue Pederson, there is no reason to overpay for his services.