Cincinnati Reds Top Prospect Report – Phillip Ervin
How did the Cincinnati Reds' top prospects do during the 2016 season?
While the Cincinnati Reds struggled to a 68-94 record, there is plenty of reason for hope in the future. The team is loaded with talented prospects across all of their minor-league teams, and many of those players started off with promising starts in their careers.
Let's take a look at how the Reds' top 10 prospects (per MLB Pipeline at the start of the season) performed as we head into the new year.
Phil Ervin (OF)
2016 Stats (Double-A):
Pensacola: .239/.362/.399, 22 2B, 13 HR, 45 RBI, 65 BB, 88 K, 36 SB
Phil Ervin is an old school, on-base machine. He has earned that description in two ways. His slugging percentage of .399 may not look impressive, but there is more there than meets the eyes.
Ervin only struck out 88 times while walking 65 times. Those are approaching Tony Gwynn numbers. You don't see that much anymore in professional baseball.
The other thing that really sticks out is his ability to get on base. He only batted .239, but he maintained a .362 OBP. His OBP was nearly as high as his slugging percentage.
Those are the sorts of numbers you don't see in baseball anymore Ervin did this while playing a steady left field and stealing 36 bases. That makes him a good projection for one of the top two spots in the order once he makes it to Cincinnati.
The Cincinnati Reds invited Phil Ervin to spring training this year, but he has more to do as the 17th ranked prospect after the season.
The expectations for Ervin were high in 2016, following a 2015 season that was very close to the way 2016 ended up. Ervin exploded on the scene after the draft in 2013, batting .331 with a ,425 OBP in rookie and Single-A. Since that time Ervin has been a .240 hitter with wildly fluctuating OBP.
Unlike the other top prospect outfielders on the forty man roster, Ervin has multiple offensive tools. Jesse Winker can get on base, but is barely fast enough to player the outfield, let alone steal a high number of bases. For his part, Florida State League MVP, Aristides Aquino is a pure slugger with little else in his skill set.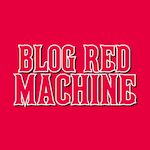 Want your voice heard? Join the Blog Red Machine team!
Write for us!
Meanwhile, Ervin is a center fielder who may end up in left. His defense is average despite his elite speed. Right now, though, he is the Reds' most versatile outfield prospect. If he has a hot spring, he could be the opening day right fielder ahead of Scott Schebler in Cincinnati.