Reds News
Cincinnati Reds Redo – Should the Reds have left Josh Smith go with "new age" bullpen?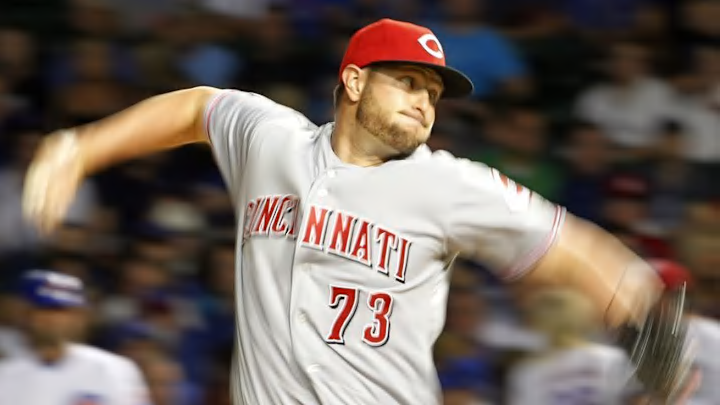 Mandatory Credit: Caylor Arnold-USA TODAY Sports
The Cincinnati Reds lost Josh Smith to the Oakland Athletics via a waiver claim in November, but may want him back.
The Cincinnati Reds outrighted Josh Smith to Louisville to make room for players that they wanted to protect from the Rule 5 Draft.  Oakland swooped in and grabbed the multi-inning reliever.  Now, the Reds are talking about mimicking what the Cleveland Indians did in the playoffs for an entire season.
Smith pitched 59 2/3 innings for the Reds in 2016, including two starts when Homer Bailey didn't answer the call.  He went 3-3 for the Reds after going through the same thing in 2015.  He was taken off of the roster in the off-season and had to earn his way back onto it during the season.
Smith's 2016 was a huge improvement over his 2015.  In 2015 he started seven games and had a WHIP of nearly 2.00.  He gave up 42 hits in 32 2/3 innings.
He is now entering his age 29 season which is usually the begin of a slow decline for a pitcher.  Sometimes a pitcher comparison to a similar pitcher is in order.  Smith hasn't pitched enough to qualify for that comparison.  Smith was a decent pitcher on a bad team with little in the way of direction during his time with them.
Did the Reds make a mistake in letting Josh Smith get away without getting anything back for him from Oakland?
The Reds have made curious decisions this off-season if they are interested in going with a new age bullpen.  The new age bullpen requires several relievers who can pitch three innings at a time.  The Reds are short on those sort of relievers.
Blake Wood is a single inning pitcher.  Tony Cingrani made be able to stretch out, but he has been training as a short reliever for a year now.  Raisel Iglesias and Michael Lorenzen each have the ability to pitch multiple innings.
Who the Reds have let go, though, speaks about their true feelings towards the new age bullpen.  In addition to Smith, the Reds also outrighted Tim Melville and Keyvius Sampson off of their roster, after Sampson came over from the San Diego Padres.  These are the types of pitchers that could become valuable as once through the order relievers.
Next: The Seattle Mariners ask about Reds' starting pitchers
Want your voice heard? Join the Blog Red Machine team!
Letting Josh Smith go was unfortunate, but the Reds value starting pitching more than relief pitching.  Bryan Price won't engage the new age bullpen.  He wants to be able to call on the same pitcher every time the Reds have a lead in the ninth.