Cincinnati Reds' minor leaguer Zach Vincej shows himself to be best in AFL
The Cincinnati Reds sent four infielders to the Arizona Fall League and it was the defensive shortstop that shone the brightest.
The Cincinnati Reds were focusing on the offense of Brandon Dixon and Chad Wallach, but it was the offense of Zach Vincej that stood out in Arizona helping the Peoria Javelinas win games.. The Reds sent down four infielders from Pensacola and a handful of pitchers to workout with the Peoria in the AFL. Barrett Astin may have been added to the forty man roster, but Vincej became the superstar.
Vincej was second in the AFL in OPS with a 1.011, while his .352 average ranked third. He only batted .281 during the regular season. He hit 13 extra base hits in 71 at-bats for the Javelinas.
This was a defensive first shortstop prior to his time in the AFL. He only had 30 extra base hits in over 400 plate appearances in Pensacola. He was second to only Phillip Ervin in games played for the Pensacola Wahoos.
Surprisingly, Vincej is available to other teams in the Rule 5 Draft. He is eligible to go to another MLB team for their big league roster. This is surprising because Vincej ranks strong enough defensive to play the defensive specialist role a la Peter Kozma or Daniel Descalso for a patient MLB team.
Beyond Vincej, Chad Wallach and Brandon Dixon had notable AFL seasons heading into the Rule 5 Draft.
Chad Wallach is the ongoing story here. He was the second half of the Mat Latos deal with Anthony DeSclafani. Wallach has been disappointing in both Double A and in the AFL offensively. He continues to go on base, but has little power and a low batting average.
Brandon Dixon is also creating a buzz as a future utility infielder at the MLB level. As the second baseman in Pensacola, he led the team in home runs with 16. In Peoria he was able to sacrifice power for OBP, leading the Javelinas in that area.
Brian O'Grady also went from Pensacola to Peoria, but he is in no danger of going in the Rule 5 Draft. He is a defensive first baseman and those are not in big demand. He may still have a future with the Reds after the Rule 5 passes.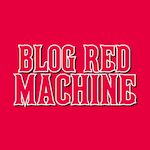 Want your voice heard? Join the Blog Red Machine team!
Write for us!
The real story is the accent of Vincej as a big time prospect. He will be in Triple A for the Reds in 2017, if he isn't on a major league roster for someone else. The good news is the Reds are developing position players after having trouble earlier this decade.