Cincinnati Reds need to figure out where Eugenio Suarez should play in the future
The Cincinnati Reds have seen Eugenio Suarez play an awful third and a subpar short his first two years in town.
The Cincinnati Reds have to decide whether Eugenio can play third base at the MLB level. He had more errors at third than anyone else in the National League. Only Kyle Seager of the Seattle Mariners had more errors at third in 2016.
In 2015 Suarez was the 114th best defensive shortstop in MLB with a defensive wins above replacement of -0.8 over 96 games. By comparison Zack Cozart was 18th before his season ending knee injury. Shortstop is considered Suarez's nature position.
While Cozart was the second best shortstop for the Reds in 2014, Suarez was getting his first taste of the big leagues in Detroit. Suarez played 81 games at shortstop for the Tigers with a 0.1 DWAR. Andrew Romine also spent time replacing the injured Jose Iglesias.
Those are the only two positions that Suarez has played in the majors. In the minors he played all over the field. Since 2013 Suarez has only played shortstop in the minors and third & short in the majors.
He has become a full-time infielder, specifically on the left side of the infield. If you look at Suarez's defensive play and his offense he seems more suited elsewhere. With his power he may even be considered a left fielder.
The Cincinnati Reds have several positions locked with veterans and also have several top rated prospects on the horizon.
Suarez is probably best suited long term to be a second baseman. Right now Brandon Phillips is still there blocking multiple players with his no trade clause. Behind Phillips are prospects Jose Peraza and Dilson Hererra of the Jay Bruce deal.
Suarez may remain at third. How long he could remain there is questionable. 2016 first round pick Nick Senzel is a natural third baseman and his 2016 season was fantastic. The Reds will want both bats in the line-up once Senzel is ready.
That brings this discussion back to shortstop. Suarez has shown some capacity at shortstop. Zack Cozart is currently there and Jose Peraza also plays there. With the expectation of Senzel's arrival, there are two positions for the trio of Suarez, Hererra, and Peraza once the veterans move onto other pastures.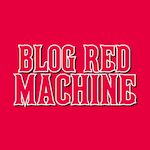 Want your voice heard? Join the Blog Red Machine team!
Write for us!
Suarez was 13th in home runs among third basemen in 2016. If he were playing shortstop, the same number of home runs would make him a poor man's Xavier Bogaerts. That means he is probably just holding down third until Senzel bumps Suarez over to short.